Hurricane Michael Shreds Trees, Crops from Florida into Southern Georgia
Images from Space Capture Michael's Scar Across Florida
MeteorologistAri Sarsalari describes the path or scar left behind after Michael moved through Florida's panhandle.
At a Glance
Michael caused extreme tree destruction in Florida and Georgia, as evident on recent satellite images.
Timber costs alone will be in the billions in both states.
Cotton, pecans, oysters and peanuts are among other crops affected by Michael.
Hurricane Michael's extreme winds reached well inland from the coast, producing an agricultural disaster for inland Florida and southern Georgia.
Photos from space show the scope of the losses from the central Florida panhandle into southwestern Georgia.
Trees were bent, snapped or completely destroyed from the landfall point near Panama City, Florida, through the Apalachicola National Forest and into pecan, peanut and cotton fields across Georgia as seen in the images below.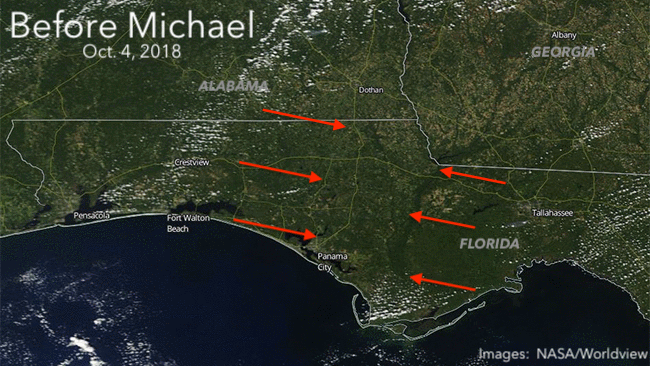 Satellite images showing the change in forestry before and after Hurricane Michael. Loss of trees is shown in the brighter brown colors.
(NASA/MODIS, HT Alex Lamers)
(MORE: Hurricane Michael Recap)
In Georgia alone, losses in the agriculture will likely top several billion dollars, according to early figures produced by the Georgia Department of Agriculture.
Some four million acres of timberland were destroyed by Hurricane Michael in Floridaand Georgia. The price tag of losses for the two states in timber alone is set at $2.3 billion between the two states.
Record high cotton yields were expected in Georgia before Hurricane Michael. The state department of agriculture now estimates that cotton losses will be between $300 million to $800 million depending on what can be harvested from the damaged or destroyed fields.

Cotton fields in southern Georgia before and after Hurricane Michael.
(Georgia Department of Agriculture)
Cotton crops may have been completely destroyed, the University of Florida's Institute of Food and Agricultural Sciences told the Associated Press. "About 90 percent of Florida's cotton crop remained in the fields when Michael struck."
Michael's impact on pecan crops will be a multi-year disaster. Impacts from wind on pecan trees alone will cost around $560 million, and trees that were lost will have to be replaced. Those replacement trees will take roughly seven years to begin producing marketable pecans, according to Georgia's Department of Agriculture.
Peanuts, poultry, corn, squash, tomatoes and several other crops also took minor to moderate hits from Michael in Georgia.
Crop losses in Florida, including oysters and other shellfish, are still being investigated.
(MORE: Is Hurricane Season Over After Michael?)
Michael was one of the most intense landfalling hurricanes to come ashore in the United States when it made landfall near Mexico Beach, Florida on Oct. 10 with observed wind gusts as high as 130 mph. Michael was also the first major hurricane to tear through any part of Georgia in over 100 years.